Skin Therapy by Dr Julia Hunter
These scientifically correct, professional strength peels have been formulated by Dr Julia Hunter to visibly restore your skin's youth and healthy functioning and increase skin collagen. These non-toxic products penetrate the skin, working to reverse the signs of ageing and to provide a solution to all your skin problems. They can be used on skin of all types and colour.
STEP 1 – REPAIRING EXFOLIANT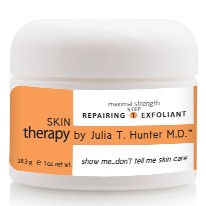 The step 1 REPAIRING EXFOLIANT is used to clear blackheads, reduce pigmentation and remove dead skin cells. The exfoliating treatment works to decrease the size of your pores and diminish your skin's redness, improving the appearance of any blemishes or scarring. You will be left with a smoother, softer and more even complexion. This product can also be used to treat other areas of the body including the back and chest.
STEP 2 – RETINOL RESTORATION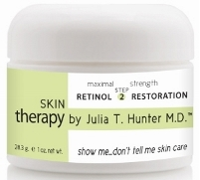 The step 2 RETINOL RESTORATION is the most powerful vitamin A peel on the market and can be used to treat a number of skin issues such as blemishes, scarring, melasma, pigment, pore size, volume, sensitivity, redness and abnormal veins. Retinol Restoration works to produce the most visible results by deeply restoring and rejuvenating the skin as well as helping to repair and prevent deep skin damage.
STEP 3 – PERFECTING PEEL

The step 3 PERFECTING PEEL can be used alone or on top of RETINOL RESTORATION. This maximal strength exfoliating acid peel works to counter the signs of ageing and reduce the appearance of any scarring or pigmentation. As a result, your skin will be left looking lifted, volumised and rejuvenated.